Estimated reading time: 4 minutes
What happened when

 

a

 

single mother-of-two

 

became

 

homeless

 

in
Brisbane
Agnes was standing on the side of the road, suitcases at her feet, as her two youngest children started asking her what was happening.
After months of couch-surfing with friends and family, her options had run out and she found herself with nowhere to go, and no place to take her children. 
With no idea about what to do next Agnes pulled out her smartphone and googled 'homeless in Brisbane please help'. Micah Projects came back as the top result. Agnes immediately called them, not knowing what to expect, or what help might be available. Agnes says she is so thankful she made that call. 
"They were amazing. I told them I had the kids with me and they told me to come straight to their office. I wasn't sure what they could do for me, or whether I should go, but then they told me they had already found us emergency accommodation for the night." 
It had been a tough few years for Agnes and her children. They had been staying with friends and family with no fixed home of their own, and had spent time overseas caring for Agnes' mother who was ill. Agnes' young kids, aged eight and three, had never had a home to call their own. 
"The Micah people were like these amazing good Samaritans. It was such a relief for me to know the kids and I had somewhere to stay." 
"Initially Micah arranged for us to stay at the Salvation Army Hotel for 5 days, and then another hotel for 2 months, before they found us this house to live in, which is owned by the Kyabra Community Association. It's only temporary, while we wait for a Department of Housing home to become available, but they've told us they won't make us leave until we have a place to go. They won't let us become homeless." 
Photography: Katie Bennett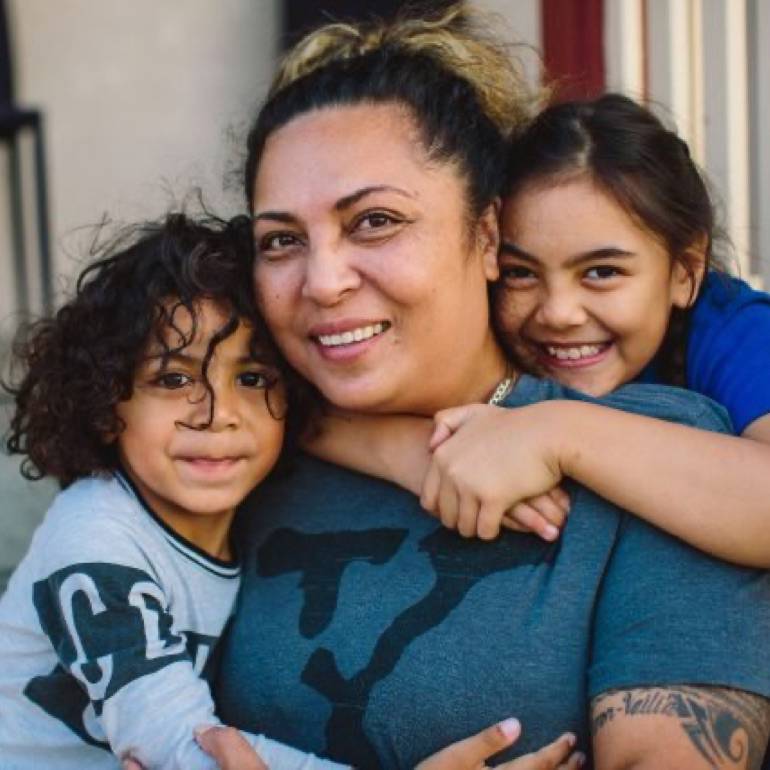 Agnes says the support she has received from Micah extends way beyond the housing support. 
"Helping us find a place to stay was great, but what they did was so much more. They helped us buy food when we didn't have food. They helped us pay rent when there wasn't enough money. They always visited us to check the kids and I were okay, which meant a lot as one of my older daughters is also living with us and she has a mental illness so their visits and emotional support really helped me." 
"When they found us this house to live in, they didn't just dump us here and leave. They helped provide us with everything we needed to set up the house; the whitegoods, the basic furniture and beds and mattresses for everyone. And they delivered it all and moved it into the house. 
"The kids couldn't believe it when they got their own beds. They were so excited. We moved in just before Christmas, and the team from Micah even brought Christmas presents for the kids to make sure they didn't go without. It meant a lot to see the kids so happy." 
I cry every time I tell this story because I am just so grateful. Our family has a place to call home. We have freedom to come and go. The kids have their own beds. My daughter is settled into a school she loves and she never wants to move again.
Anna from the team was so supportive, and she kept coming around to check on me even once we had moved in here. When she said the time had come for her visits to stop, because we were doing so well and the Kyabra team was working with me to secure permanent housing, I was really nervous. But Anna told me I was ready, that I'd be okay and that I could do it. She was right." 
Since receiving help and support from Micah Projects Agnes has decided she would like to pursue work in the community support sector. 
"Right now I'm focussing on caring for my children, helping them settle back into normal life and on finding permanent housing, but I really want to stand on my own two feet. I want to step out of the shadow we've been living under and find a way to get a job working with people who need help. I want to give people the kind of help that I've received." 
Agnes' story was written by Juanita Wheeler.