Estimated reading time: 3 minutes
Couch surfing with kids
Katie had been couch surfing with her two children for four years when she reached out to Micah Projects for help.
"Micah helped my sister become a young mum with their young mothers' program. They were helping her with midwives and also with housing, so I wondered if they could help me."
"I was eventually desperate for help, so I looked them up on the internet. They set up an appointment for that day, and they got us into some emergency accommodation in a hotel in the city. They helped us find some private housing, but when I couldn't keep up with the rent, we went back to couch surfing."
Katie's effort to secure housing were made more challenging due to a previous debt she had accrued while staying in public housing a number of years earlier. Micah Projects Families Team Worker Karla explained the importance of addressing this debt to be considered for new housing, and Katie entered into a debt repayment plan with the Department of Housing. Karla also provided support letters explaining the family's situation.
Karla continued to advocate for a number of months for Katie to be placed on the waitlist for community and public housing.
During her journey to secure housing Katie moved to another city to secure housing for her family before returning to Brisbane and reaching out to Micah once again.
Photography: Katie Bennett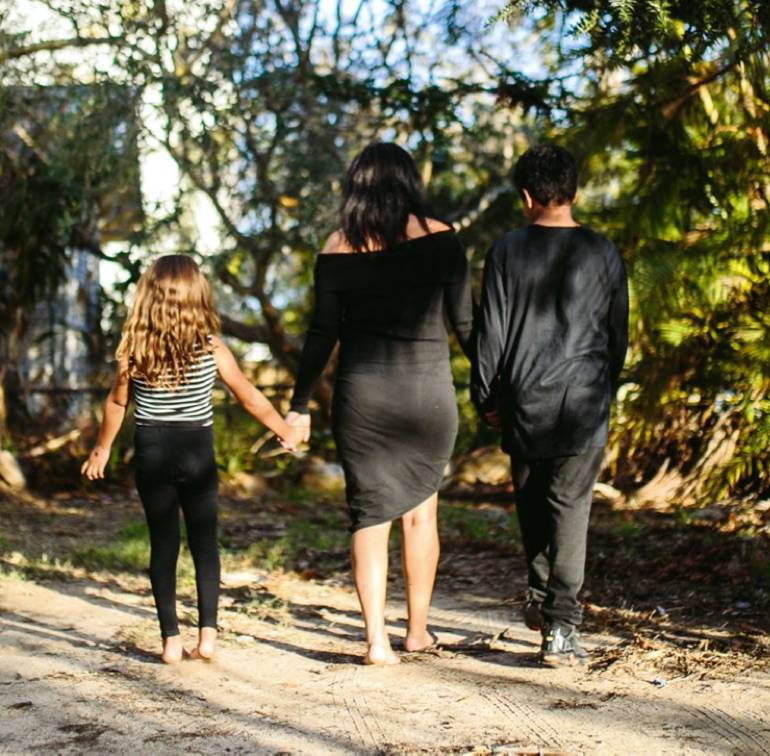 "My children and I were couch surfing for a long while, but since Karla on the Families Team has been working with me, everything's been going great."
The months of advocacy work that had been undertaken delivered the best possible outcome. Katie and her children were returned to the housing waitlist and within weeks they were offered Community Housing.
"Within six weeks she'd found us community housing and given us all the furniture we needed to set up the house – a fridge, washing machine, beds, even the removalists. We had nothing at all when we were couch surfing. Then we had a home and all the furniture we needed to make a start."
"All my kids ever wanted was to have their own home, own rooms and their own beds to sleep in and to be back at school."
"It's really hard keeping things stable for your kids when you're couch surfing. As a mother, I had days when I was really depressed because my children weren't getting anywhere in life. And when you're moving couch to couch in different parts of the city, it's hard to get kids to school."
"It was a struggle to manage until we got the support we needed through Micah Projects."
"Once we had housing and furniture, Karla helped me get the kids enrolled in school. They're stable there now and happier than they have ever been. We're very grateful for what we have. Karla's even gotten us back onto the waiting list for Department Housing, so that's looking good too."
Now I've got a stable place for the kids to live, they're back at school every day, and we have a routine, I can start to think about getting a job.
"Before Karla came along I felt so depressed and lost I'd given up on getting help.
"Karla changed all that. She's deadly."
Karla and the Family Support Team continue to provide support to the family to help ensure their new tenancy can be sustained.
Katie's story was written by Juanita Wheeler.