Estimated reading time: 3 minutes
How sleeping rough isn't always on the streets
Mandy was living at a north-side caravan park and was experiencing significant conflict and felt unsafe there. The team began the process of finding her alternative accommodation.
The Micah Projects team first met Mandy after a recent discharge from the Royal Brisbane and Women's Hospital.  
"I have known Micah Projects for about five months. They communicate with me a lot and help stabilise me. Sometimes I get overwhelmed and confused so I talk to the people at Micah. When I first met Micah Projects I couldn't work anything out. I was a mess." 
The team helped Mandy submit a Department of Housing application so that she can move from her current temporary, seventeen-room boarding house into her own home.  
"It's just good when you are putting your life in order that you have some people with you, on your side you can talk to and who will stand up for you. Micah workers take me to my appointments too. I don't bother them all the time but I know I can ring them and they will give me a hand and help me see what I should do next." 
I am not having as many panic attacks, or feeling so paranoid, anxious and depressed. I have slowed down and I am not as full of expectation about where I should be as I was. Small steps.
"So far, we have got my Driver's License and my Birth Certificate. Micah Projects was really there for me when I was at my worst and didn't know what to do. In other relationships – when you ask for help – sometimes you have to 'return the favour' but the Micah workers just want to help me." 
"I am lucky also because I have a great relationship with DOCS (Department of Child Safety). I have a child with them and Dave at DOCS is great. I see all my children regularly now."
"With the alcohol I have been in and out of rehab. You see I lost my first child to SIDS at fourteen months when I was pregnant with my third child – my teenage daughter. I stayed strong through that pregnancy for the third child but then I couldn't cope with the loss and I left. I left the kids with their father and the house and I didn't take anything – I just couldn't be strong anymore after the loss of my first child. I had to leave everything so my kids would have a home and the things they needed." 
"Now on the weekend I see all the children. My ex-partner sets up the marquee in the park and we all meet up and my kids love to see me and we have a great time together." 
Photography: Katie Bennett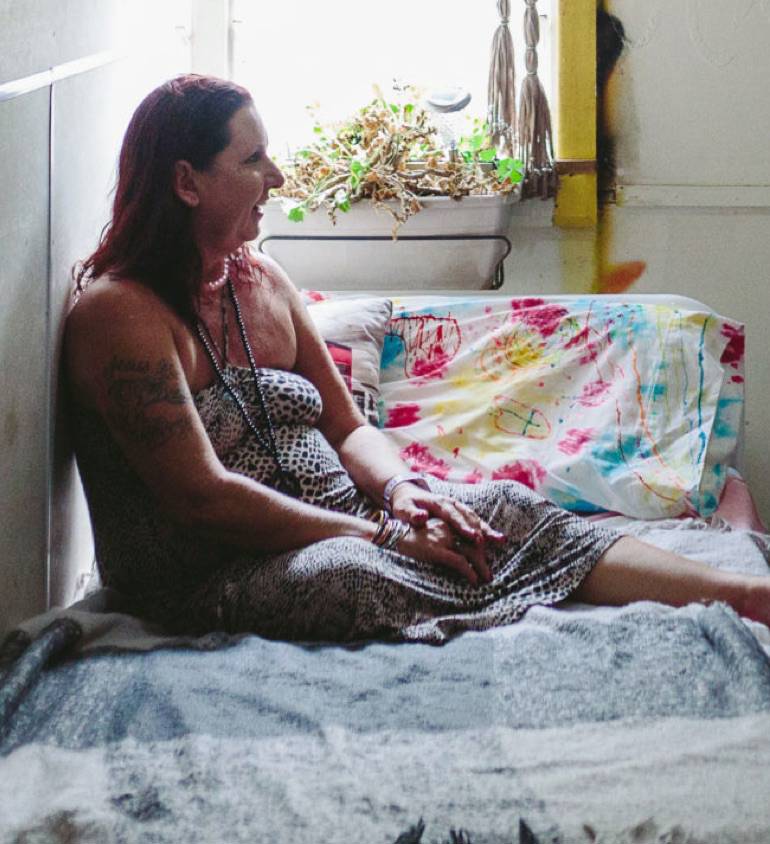 Mandy says she still has a lot of trouble dealing with the sadness and she is looking forward to receiving a Mental Health Care Plan. She feels herself get very angry sometimes. She knows she needs to talk about anger management. "I have had lots of help – I got referred to Biala but I don't need them because I'm not drinking now. I just need that Mental Health Care Plan – I have never done any work around one of my partner's suicide or other major traumas I have had. I left home when I was 16 – my mother was involved in a violent relationship with a man and I couldn't take it, I had to go." 
Mandy says she is proud of herself now for the first time in a while. She says some days lately she wakes up going, "Wow! I've achieved this and that – small steps forward all the time."