Estimated reading time: 4 minutes
How a family of eight found themselves on the brink of homelessness
A promise of housing from a friend and the desire to be closer to Brisbane to support the medical needs of their five year old son led them to make the move south.
When the housing offer didn't eventuate the Parsons family found themselves homeless, without any family or friends to support them. Before they knew it, the entire family was couch surfing with friends.  
They tried repeatedly, without success to secure private rental accommodation. Though the family did not know it at the time, their former landlord had placed them on the TICA tenancies database, indicating to all prospective landlords that they were undesirable tenants, effectively eliminating any chance of the family securing private rental. 
Unable to secure a new private tenancy and faced with the real threat of life on the streets with five children and another on the way, the family sought refuge in the only accommodation available that would keep them off the streets, a single motel room in Pine Rivers at $450 a week. The motel room comprised only three beds, a single toilet and a shower. There was no laundry and no cooking facilities. 
Katrina gave birth to their sixth child within weeks of taking shelter in the motel room. 
Despite the challenges of the accommodation the parents, Michael & Katrina ensured the three school-aged children were all enrolled in school and attending regularly. 
"The children mean everything to us. So we got them to school, and we never missed a medical or specialist appointment for our son unless he was too sick to attend," Katrina said. 
Keeping six kids happy in such a tiny space was hard. There was no room to move, and barely enough to breathe in the motel room, so we would go for walks to a park close by so the kids could play. You do what you have to when you don't have a home.
"Until it happens to you, you have no idea how challenging it is to provide the basics like food and clean clothes when you don't have a kitchen or a laundry. But you can't let it get you down. You do what you have to do, but it is stressful," Katrina said. 
After six months in the motel room, Katrina saw a Micah Projects worker, visiting another family at the motel. She walked out, introduced herself and told Cameron the family's story.  
The Micah Projects family support team stepped in. Over the coming weeks they threw everything they had into trying to find a housing solution for the family. Many of the team, including Cameron, were especially touched by their story. 
"They have an amazingly positive attitude. I've never heard a harsh or complaining word from them. They focus on their children, trying to make life as normal as possible for them despite not having a home. They don't even have a car that can fit them all, but they're determined to make it work," Cameron said. 
The Micah Projects team called people throughout Brisbane, chasing down leads and calling on mates and acquaintances throughout the sector. Within six weeks the Parsons family were offered transitional housing in a 4-bedroom house operated by Churches of Christ Housing Care.  
With the support of the Micah Projects team the family were able to organise the necessary supporting documentation, a rental bond, and a rental grant needed in order to sign the lease. Micah Projects also arranged transport to and from appointments for the family in order to help make it happen, and provided the vehicles and person-power for moving day. 
"It was a major win for us, the moment we were able to walk out of that hotel room," Katrina said.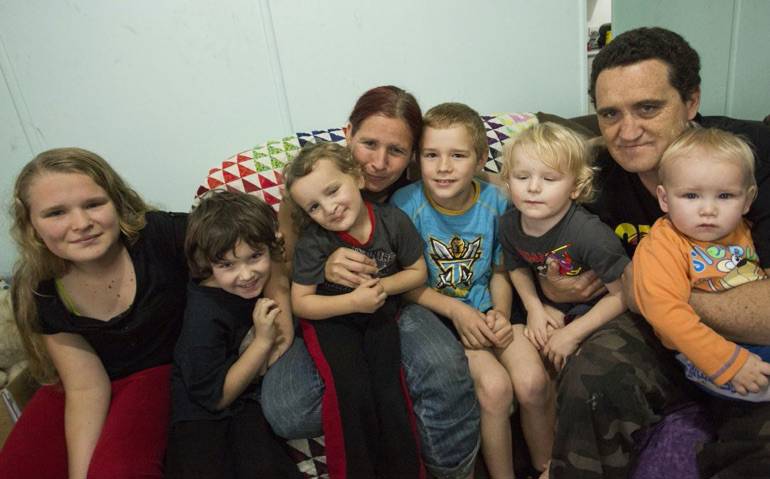 Not wanting the family to move into an empty house, Micah were able to draw on funds donated by a Brisbane business to assist with the purchase of essential furniture and appliances including a bed and bedding for every family member, a lounge suite, dining table, fridge, washing machine, clothes dryer and a swing set for the children. 
"The day we moved in it was like Christmas. The whole family of eight had been sleeping on just three beds in a single motel room, so the kids were really excited to have their own beds to sleep in," Katrina said. 
"Not to mention the swing set. They use it every day. 
Since then the family have secured a three-year lease in a 4-bedroom house with the Department of Housing. This housing is an affordable and sustainable option for the family, maximising their potential for sustained tenancy into the future. 
Michael Parsons said he is already trying to pay it forward. 
"When I find out that someone else is homeless, living in their car or about to be homeless because of problems with their landlord, I tell them to phone Micah. A lot of people are proud and don't like to ask for help, but there is help out there. And Micah don't judge. They just do their best to help," Michael said. 
"I don't know what would have happened to us without them. We'd probably still be back in that motel room."